2021 Palace Cup Handicap Singles
REPORT
Date: 25 – 28 March
The Palace Cup Handicap singles featured some intriguing match ups and some very tight games. Pick of the bunch up to the semi-final stage was probably Tony Lear and Bryan Thompson which went to 20-20 with Tony just getting home on the last possible end. The matches between Nigel Rushton and Colin Rowling 21-19 and John Fitzgerald and Ken Richardson 21-18 were similarly nail biting affairs. The semi-finals were again close, John came back from a 16-9 deficit to win 21-18 against Nigel whereas Carole Hollett won her eagerly awaited clash with Tony 21-19 despite some late alarms. The final itself was a very good game with excellent draw bowling from both players. Carole opened an early lead but was pegged back by some incredibly consistent bowling from John who prevailed 21-16 in the end.
Congratulations to both players and thanks to Tony Lear for the organisation, Bryan Hughes for his work on the green and to the markers especially Karen
Rushton who stepped in to mark 3 games and Colin Rowling who volunteered
to officiate the final.
Wrote By: Nigel Rushton
PHOTOS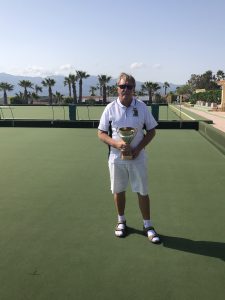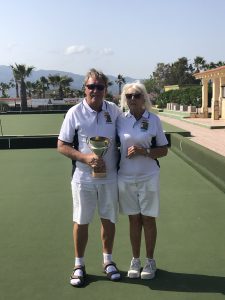 VIDEO