2012 Inaugural Cup Report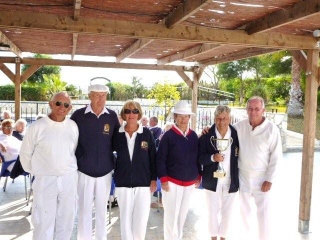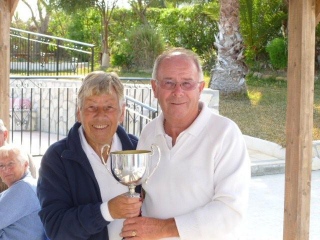 This year's round-robin mixed pairs the Inaugural Cup was planned for Friday 2nd and Sunday 4th. However due to heavy rain on Friday morning Friday was moved to Monday. This is an open tournament, but due to fixture clashes and communication problems, it was mainly supported by our own club. Twenty-four teams took part, playing six timed games over the two days of a maximum of eight ends.
The first enjoyable day in beautiful sunshine was on Sunday 4th starting at the early time of 1000 when 12 teams took part for the first hour. The change over for the other twelve teams went smoothly for the next session. This continued throughout the day when all pairs had completed three games.
At the end of this day there was a clear winning pair, Rod and Viv Digweed, followed by John and Ruth Compton and third place were Paul Fitzhugh and his partner Peggy Pinn.
The second day was played on the Monday went well with the weather a little colder and occasional sunshine. Paul and Peggy were in the winning position and just three points behind were Chris Ewer and Siobhan Herrity with Graham and Catherine Patrick coming in third position.
As points are awarded for wins, draw and ends won, one can never really predict the eventual winners. This proved to be the case with the final games of the competition giving different feelings of pleasure and disappointment. The eventual clear winners over the two days were  new names on the trophy, Paul Fitzhugh and Peggy Pinn  with second and third separated by two shots putting the first day second place, Ruth and John Compton, into that position again with the first day leaders Rod and Viv Digweed slipping into third place.
Jim Pike expressed how well the competition had gone and gave thanks to Maureen Atkins for her usual expert production of schedule and score cards and myself for the running of the competition. Cash prizes were presented to the first three pairs and a bonus for Trish and Tony Millington who were our booby prize winners by Maureen Atkins
Don't forget this report and photographs will be found on our website www.bowlingalmeria.com
Vic Parsons
ALBC Press Officer & Vice Chairman