2011 20th Anniversary Triples Report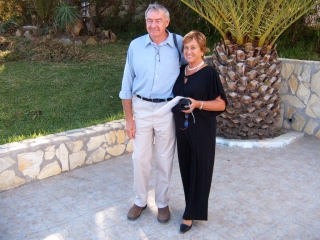 It is twenty years since Anthony and Shirley started the Los Gallardos Camping site in 1991.Five years later in 1996, the Almeria Lawn Bowls Club was set up and has been very much part of the very successful project which has grown to include a huge Static Mobile Home park, together with a Camp Shop, a superb Ballroom, Restaurant and Bar complex.
The celebration week started with a very nice gesture from Anthony and Shirley, the sponsorship of the 20th Anniversary Triple Competition.
On Tuesday 25th October sixty players, twenty triples teams, from La Mata, Cabrera and of course our own Almeria Club,  commenced a round robin competition with two groups playing alternatively every hour for three games of up to eight ends.
On completion of this, the winners of each group and the runners up of each group played each other to give a first second ,third and fourth in the competition.
The weather was lovely and sunny with no real wind which allowed all players to play at their best.
The final of group 1 and 2 was won by Paul Fitzhugh, Eddie Donley and Siobhan Herrity beating the very successful triple of  John Fitzgerald, Graham and Catherine Patrick who only on the previous Sunday had won the Turre Open with the help of Jim Anderson.
The runners up final were won by Colin Wright, Ken and Viv Sykes who were against Chris Ewer, Tony and Mary Mullen.
Both games were played at the same time and gave the many spectators a good viewing of the player's skill sets.
After the event, in the patio area of the restaurant, Our Captain Jim Pike thanked Maureen Atkins for her intrepid work in ensuring everything went well with the running of the competition. He also thanked Anthony and Shirley for their support and sponsorship of the prize monies and laying on free superb tapas buffet and finally thanked all those who took part.
Anthony then said a few words to thank Jim and myself for our work and echoing Jims thanks of  everyone who took part and finally for all members past and present, for their contribution to the success of Los Gallardos Camping. Shirley was then kind enough to present the prizes.
All in all it was a great day and because of the successful outcome will possible herald another competition to be included in our calendar, 'The Los Gallardos Anniversary Triples?
Vic Parsons
Vice Chairman and Press officer